Graphic Design vs Illustration: Understand the Difference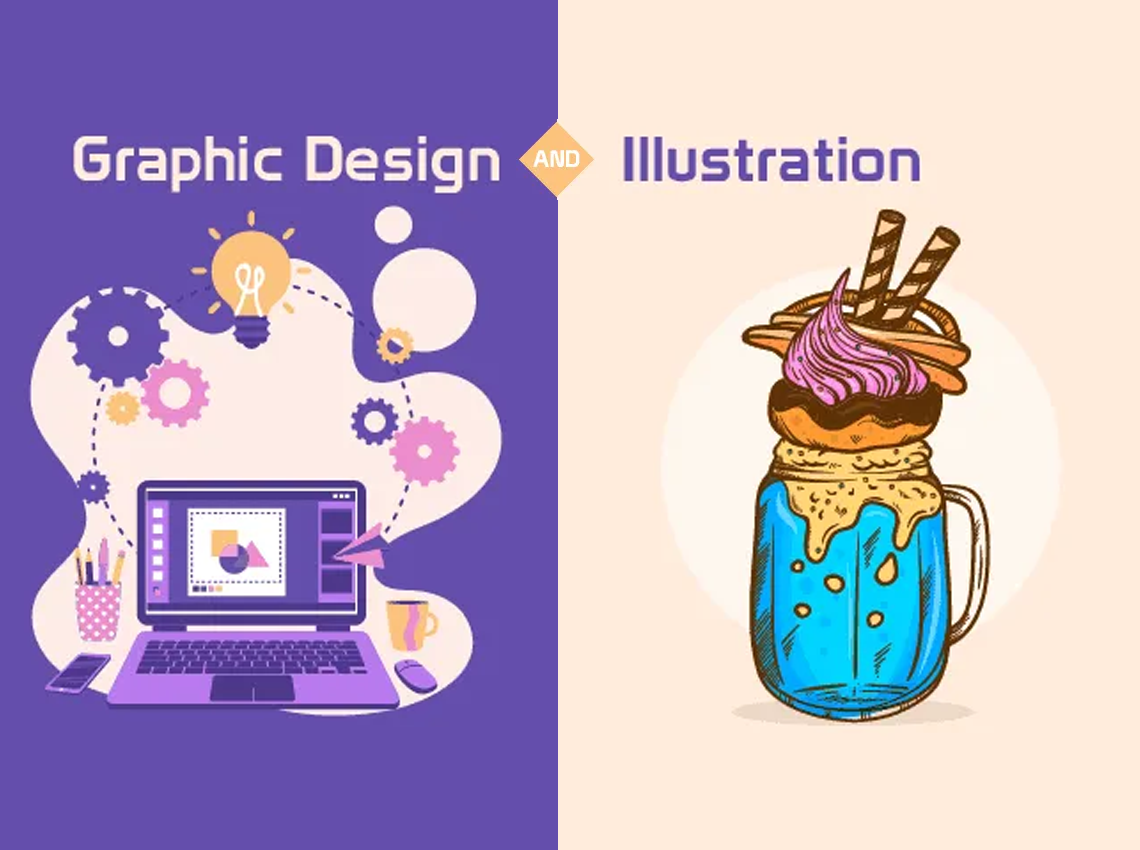 Most of the people in this world are confused between two Graphic Design and Illustration. Most of them think both the fields are the same whereas very few know the right difference between graphic design vs illustration. According to the views and explanation of experts both contain a high difference between them and if we talk in simple words so graphic designing is defined as commercial art and Illustration design is defined as fine art.
Let jump into the article and build a better understanding of the difference between graphic design and illustration.
Graphic Design VS Illustration:
The heading must give you a touch that it is a battle going on between graphic design and illustration, but it is not like that. The concern of writing this blog is to create an understanding among the individuals that what difference both the fields are having.
Graphic Design:
If we define graphic designing so it wouldn't be wrong to call it art or a practice that helps in conveying messages and ideas easily. Graphic Designing is mostly concerned by organizations, companies, and different types of businesses to sell, advertise, and promote their product or services.
Graphic design is not just meant to convert the idea into a design, but a graphic designer also takes care of elements used in it. Following are some of the key elements that are used in it:
Line
Color
Space
Shape
Typography
Texture
GRAPHIC DESIGNER ROLE:
The responsibility of a graphic designer is quite tough, and he/she needs to understand
Keenly studying the requirement and briefs a client explained.
Defining the appropriate project budget according to the client's needs.
Shaping the project schedule.
Rough drafts are prepared and timely the thing is presented.
Using different tools for designing logos and it is also done by hands.
Seeking ideas from the copywriter to create a final design.
Checking designs on a different platform that if it is working accurately or not.
Reviewing it from the client and working on it further according to the feedback given.
The graphic designer makes sure that the final design should be appealing to the audience. Designed accurately and explaining the brand idea.
The expected annual salary of a graphic designer is around $29.201.
Illustration:
The illustration is defined as the visual explanation and depiction of ideas or process or anything. The most favored places of illustration design are magazines, books, posters, video games, films, or animations.
The technologies that are more used in the illustration design are as follows:
Vector Graphics:
The vector graphics is a technique in illustration design that helps in creating the computer graphics either it is in 2D point or any other dimension. The illustration styles help majorly in creating amazing and eye-catching images that are mostly loved by the people. The reason behind using vector graphics is this that it helps in zooming purpose and make sure that the image created is not blurred.
Freehand Digital Illustration:
Either you draw a drawing or use a freehand digital illustration both are similar to each other. The tools used in this illustration style by the illustrators are usually pen tools or stylus. Freehand digital illustration plays an important role in designing art, storyboarding, or book illustrations.
Adding more in it you can easily do the task like editing, shading, blending. If you view these images on a larger area so sometimes these kinds of images are blurred.
ILLUSTRATOR ROLE:
The responsibility of an illustrator is to define the image as clear as possible using a wide range of ideas regarding the services or products a company is providing. Following are some of the role and responsibility of an illustrator:
Understanding what the client is looking for and what type of audience is involved in it.
Drawing the client's idea and making a brief about the contract or project.
The creation of rough visuals takes place and once the client approves its final touches are given to it.
Photographic, painting, sketching, and drawing are the key skills that are used in creating illustration design.
The expected annual salary of an illustrator is $34,557 which is high for the graphic designer as the job role consist of many sitting with the client and after that illustrations get approved.
CONCLUSION:
It is like that both graphic design and illustration are the same by profession but they both had many differences. It is up to you that how you what defines your needs and what fits best in your budget. Even if you want to choose between the two professions and confused in which profession you can perform very well so no need to worry more. This blog will surely help you out in choosing one. Make sure you make the most possible researches and once you are done the choose any of its courses do specialization in it.